Easiest Chocolate Peanut Butter Fudge
Priti P.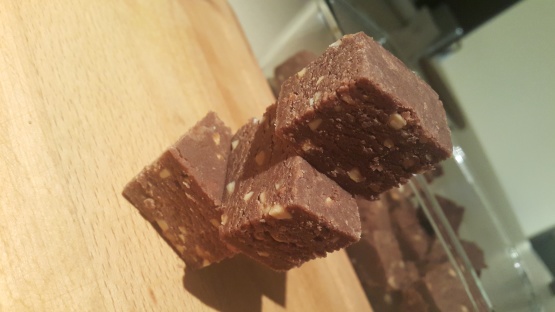 This tastes like the old-fashioned, watched over fudge but takes no more than 5 minutes to make....you will love it!! You can also leave out the cocoa and it makes delicious peanut butter fudge.
Perfect!! I was skeptical that only cooking for 1 minute it would set up, but it did and it was creamy and delicious. I did wait to start timing it until it was a rolling boil that couldn't be stirred down. So easy. Recommend it to anyone who loves fudge. (Hint: to keep it from getting grainy, don't scrape the sides while stirring. Old trick in making any kind of candy.)
Mix sugar, cocoa and milk in a saucepan. Bring to a rapid boil and boil for exactly one minute. Pour over peanut butter and vanilla and nuts in a bowl and beat until thick -- this only takes about a minute. Immediately pour onto a buttered platter and allow to cool. Cut into squares.
Tip: Have your peanut butter and vanilla already in a bowl before boiling the mixture as you need to pour it over the peanut butter immediately.