Super Easy Peanut Butter Fudge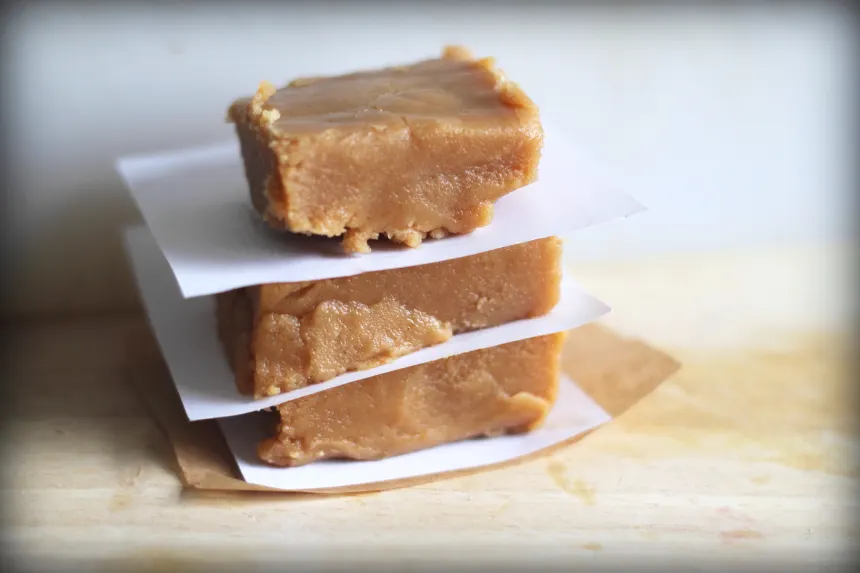 photo by Swirling F.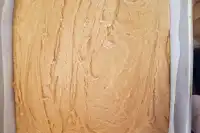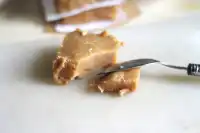 Ready In:

24mins

Ingredients:

5

Serves:

20
directions
Prepare a 9x11 glass dish by buttering the bottom.
In heavy bottom sauce pan combine sugar and milk.
Measure and set aside remaining ingredients.
Cook over MEDIUM HEAT (temperature too high will cause it to reach temperature sooner and lead to overcooking) stirring occasionally till it comes to a boil then stir constantly.
Let boil for 4 minutes EXACTLY, over cooking leads to crumbly fudge as it has moved past softball stage and into softcrack (measure from the first sight of littlest bubbles or use a thermometer - softball stage) I use a stop watch. Remove from heat.
Stir in remaining ingredients till all melted and smooth.
Pour into prepared dish and refrigerate until firm.
Questions & Replies

Reviews
Hi. I have made pb fudge for years. I only use 2 cups of sugar and the secret to getting it firm is a candy thermometer. Get it to soft ball stage which is (I believe) 234 degrees. It will say soft ball stage on your thermometer. As for the sugar, it's been my experience that 2 cups is enough. I struggled with chocolate fudge. My recipe called for four cups of sugar. It was always grainy so one Christmas I took my pb fudge recipe and used a 12 oz. bag of semi sweet chocolate chips instead of pb. Turned out perfect. for chocolate I add walnuts and for pb I use crunchy pb. Hope my tips help :)

 

This was by far the easiest peanut butter fudge I have ever made. I do have a candy thermometer, but found that it takes more time to measure the temp that way, and by the time it would read I would have burned it. So I simply followed the directions exactly. As soon as I seen one bubble I set the time and four min later took it directly off the heat. I mixed the other 2 ingredients and poured into the pan. I used wax paper to line the pan instead of butter. The fudge came out perfectly the first time. Thanks for such a yummy and EASY recipe.<br/><br/>Mommy of 2

 

ok, thru trial and error I learned a few important lessons, 3rd time's the charm, right? FIRST - make this in a pot that can hold 3-4 times the volume of the sugar/milk you put into it! Once it starts to boil it expands quite a bit and foams up quickly, I had a burnt/sticky/sugary mess the first time around. SECOND - soft ball stage according to my thermometer is actually 235 degrees, not 260! if you go until 260 you will have a peanut-butter beach (literally sandy and dry).<br/>THIRD- the timing for the fudge of exactly 4 minutes (as soon as it starts to bubble/boil) is right on, so really, don't bother with the thermometer. At 4 mins mine was at 233, so i decided to go to 235 (another 40 secs) and I wish I wouldn't have! <br/>I cut the sugar down to 3 cups and used evap. milk, as that's what I had on hand. Besides going 40 seconds over (which was my fault & it made it just a *tad* dry), this fudge is delicious! SMOOTH, smooth smooth and plenty sweet without masking the peanut butter flavor (if you lessen the sugar). <br/>thanks so much for the recipe, will definitely be making it again!

 

Made this for Thanksgiving and it was a big hit! By request I made it again for our Family Christmas Party on December 19. Very super easy recipe and quick! The only thing I will change next time is less sugar. I personally thought it was way to sweet. That's ok though, I care that other liked it just fine!