Dijon Pork Roast With Cranberries (Crock Pot)
puppitypup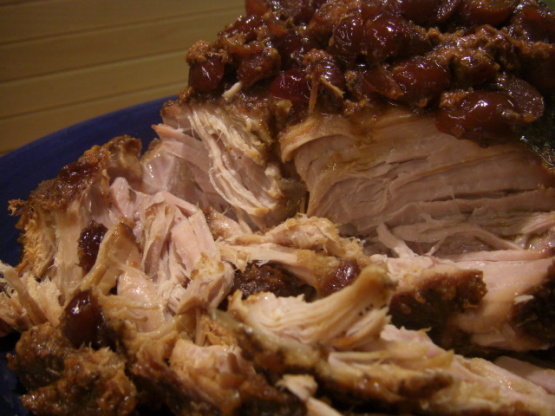 New to slow cooking, I recently came across this recipe while perusing a cookbook from Mom's collection. Though I have not tried this yet, I'm keeping it here safe for when the time comes. I'm guessing that the honey mustard can be replaced with a combination of equal parts dijon mustard and honey.

This is truly delicious! It is the rare EASY crockpot meal that is suitable for company! We love it and have made it several times. I use about 1/4 - 1/2 c finely chopped onion in place of the dried onions. Also, since we usually don't have honey-dijon mustard in the house, I substitute 1 T honey and 1 T dijon for the 2T honey-dijon. These substitutions work out just great. Thanks for an awesome recipe!
907.18-1133.98

g lean pork loin roast, trimmed of excess fat

1.23

ml allspice

1.23

ml salt

1.23

ml pepper, fresh ground if possible

29.58

ml honey dijon mustard

29.58

ml honey

9.85

ml orange zest, finely grated

29.58

ml dried onion flakes

236.59

ml dried cranberries
Combine the allspice, salt and pepper. Rub over the surface of the roast. Place roast in slow cooker.
Blend mustard, honey, orange zest, and onion flakes. Pour over the roast. Sprinkle cranberries on top.
Cook for 4 to 6 hours on low or 2 to 3 hours on high. Pork should be fork tender but not falling apart.
Remove pork and allow to rest for 5 to 7 minutes.
Skim fat from the top of the sauce.
Slice meat and serve with sauce on top or allow diners to ladle on themselves.