Diane's Fresh Apple Cake With Caramel Glaze
vrvrvr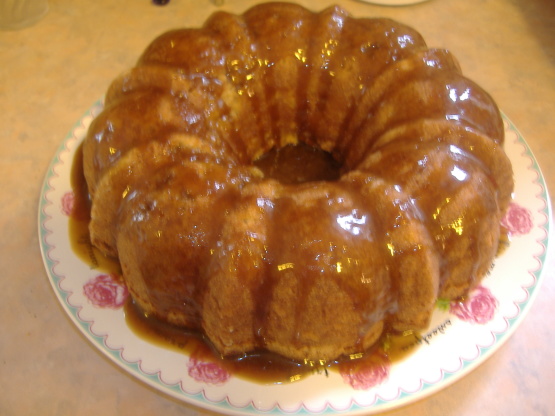 Diane wanted the taste of carmel apples so she added the glaze to a recipe that she had made before. This is a great tasting, moist cake. Serve with a dollop of whipped cream or a scoop of your favorite vanilla ice cream. The recipe comes from Diane Nemitz & Hometown recipes. Note: Nut lovers can add 1 cup of chopped walnuts or pecans to the cake batter.
Delicious. Just made it for New Year's Day dinner. Loved it and I'll make it again!
Preheat oven to 350 degrees; grease a bundt pan or tube pan and coat with cinnamon-sugar mixture.
Mix apples, eggs and oil with an electric mixer.
Add the flour, sugar, baking soda and cinnamon; mix well.
Pour into pan and bake about 1 hour or until a toothpick inserted in center comes out clean.
Allow cake to cool in pan for at least 10 minutes; invert onto a cake plate.
To prepare Glaze; combine butter, brown sugar and milk in a medium saucepan, bring to a boil and cook for 1 minute.
Spoon over cake, allow to cool before serving, ENJOY.