Diabetic Frozen Peach Yogurt
PaulaG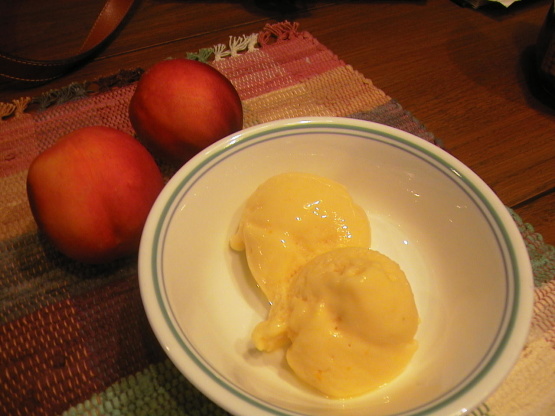 My Husband loves this recipe for frozen yogurt as he is a diabetic. I use low-fat yogurt, you can use regular yogurt for a creamer consistency. Cooking time is freezing time. Recipe is made for electric ice cream freezer.

Yum! I'm always looking for diabetic recipes for me that my non-diabetic husband and kids will also enjoy. This was a big hit! Try substituting a pint of fresh strawberries and 1/2 c. of orange juice for a delicious strawberry version and use non-gat Greek yogurt for extra protein. Looking forward to trying mango, blackberry and more!
Drain peaches reserving 1/2 cup of juice.
Puree peaches in blender (I use hand held blender for faster clean up).
Add yogurt, (I do this all in a four cup measuring cup) reserved juice, and Splenda; blend with hand blender until combined.
Pour into freezer bowl, turn machine ON and let mix until frozen, about 25-30 minutes.
If desired, pour frozen yogurt into plastic container and place in freezer until firm, about 2 hours.