J-Lynn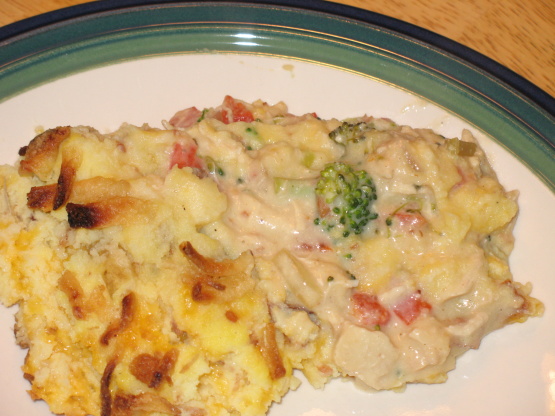 An easy sunday supper. You can use any cooked chicken. I've used anything from canned chicken to what I had left from KFC (including the crispy crust) to cooked up boneless chicken.

I used all ingredients I've had in the house so I took some liberties with your recipe... for starters what I thought was chicken was turkey when it thawed. I used light sour cream and recipe #25653 for the cream of chicken soup, and did not add milk to this mix as it seemed pretty thin already. I didn't have any bacon so I started with the onion. Nor did I have celery, green pepper or mushrooms.I don't like mushrooms so I wouldn't miss those anyways. No broccoli either- so I used a blend of corn, green beans, peas, and carrots. I added a sprinkling of Penzey's Mural of Flavor. My mash potatoes had been frozen and didn't need any extra liquid so I only used 1 egg and left out the milk. I mixed in the cheddar cheese as well as some garlic salt- no pimentoes or french fried onion either. I assembled everything into 4 individual casserole... and they are in the fridge just waiting for dinner time.
Fry bacon in skillet until crisp.
Remove and drain on paper towels.
Crumble.
Saute onion, celery, green pepper mushrooms and broccoli flowerettes in bacon dripping until tender.
Do not brown.
Combine soup and sour cream in a bowl.
Add chicken, Worcestershire sauce, pepper, 1TBL milk, and sauteed vegetables; mix well.
Turn into a 2 quart greased casserole.
Combine mashed potatoes with eggs, crumbled bacon, milk, pimentos, and cheese; mix until just blended.
Spread on top of casserole.
Top with Durkee onions.
Cover loosely with foil.
(remove foil 10-15 minutes before end of baking.) Bake in moderate oven 350' degrees for 45 minutes or until bubbly.
and top is nicely browned.