Delish Stuffed Mushrooms - Gluten / Egg Free
Rita1652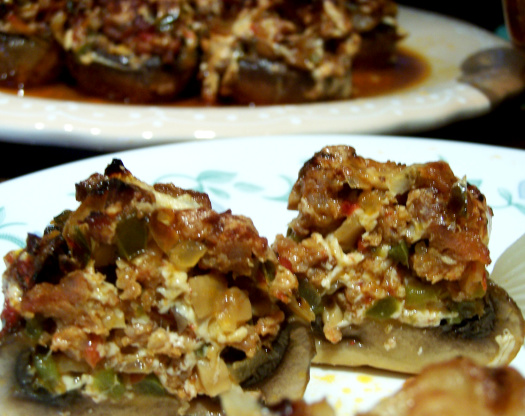 No breading just yummy veggies and sausage giving the filling crispness and the mushroom retain a soft juicy texture. No added fat or salt needed for the sausage and cheese supply enough..

I've made this recipe a couple of times now for an appetizer to share at group functions. ( I was tired of there not being any gluten free appetizers at these get togethers). They are easy to make and for some reason I get about 24 mushrooms out of a single recipe. I buy large mushrooms but not the gigantic ones! Anyway, they are always a hit whether you need gluten free or not. Be sure to serve with a napkin as they are always juicy! I use the hot sausage, red, yellow or orange bell pepper and it's ok to add more mozzarella than it calls for!
Preheat oven to 375 degrees.
Spray a 10x13 oven proof dish.
Over medium high heat in a large hot pan saute the sausage while browning crumble the meat with a wooden spoon. Cook for 4 minutes. Blot the grease of the sausage with paper toweland discard. Add onions and peppers cook for 3 minutes.
Add diced mushroom stems and garlic sauteing and stirring for 3 minutes.
Add tomatoes and herbs simmer for 4 minutes.
Remove from heat and add mozzarella cheese mixing in to melt(this is the binder).
Fill stuffing the shrooms with filling mounding up nice and full.
Sprinkle with grated cheese.
Bake for 30 minutes.
Remove and place on a serving platter pour juices over the shrooms.
Enjoy.