Delicious Thai Style Meatballs
gailanng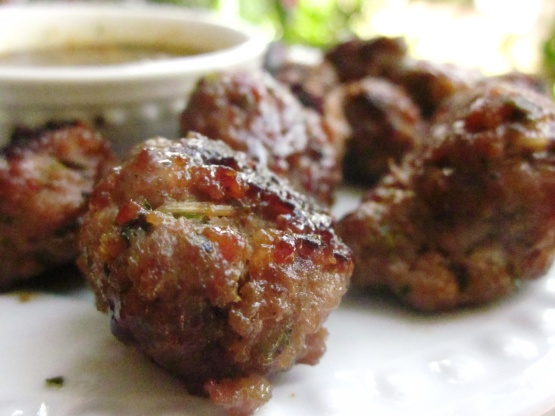 This is a really yummy recipe I got out of Hello Magazine years ago. The dipping sauce is a must! Serve either as a starter or serve with noodles/stir fry as a main meal. It takes a bit of prep, but is worth it!

Wow! I wasn't expecting them to live up to the 5-star rating, but they do! Wonderful flavors. While the recipe doesn't make a large quantity of sauce, all the flavors are potent, so a little bit is just right.<br/><br/>I served these at an office potluck, where they were a hit. I only made a couple small tweaks, based on some food science from America's Test Kitchen: I added milk, breadcrumbs (panko) and a little gelatin to help keep the meat moist and tender. (I now do this for all meatballs.) I also added one egg in a double recipe. Then, I baked them on a wire rack in a 450 degree rather than frying. Again, this is my "standard" for meatballs.<br/><br/>Since I was serving from a crockpot, I used half of the sauce as a glaze, and reserved the other half for dipping.
For the dipping sauce, whisk all the ingredients together and set aside. Start to prepare the meatballs.
Gently heat the sugar and fish sauce in a non-stick saucepan until the sugar has melted and mixture starts to thicken. Cool, then stir into the pork mince with the remaining ingredients mixing thoroughtly.
With damp hands, roll into 15-20 small balls, place on a plate and chill until ready to cook.
Heat the oil in a large non-stick frying pan and fry the meatballs for 15-20 minutes, until brown and cooked through.
As an appetizer, serve the meatballs hot accompanied by the dipping sauce. For a main meal, serve with rice/noodles and a vegetable stir fry.
You can also freeze the meatballs raw and cook when needed. This works well.
Happy chopping!