Pagan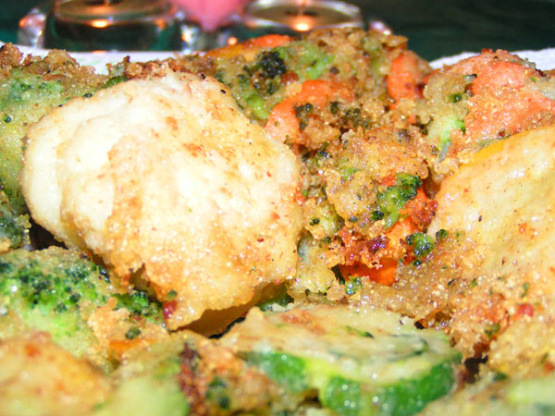 We had deep fried calamari and vegetables at a restaurant and my Wife LOVED it, so when we got home, I experimented for a few hours, and this is what I came up with. It can be used as a base batter recipe for deep fried calamari and vegetables, shrimp alone or with veggies, chicken, broccoli, you name it. It's versatile and delicious! I'm writing it as though it's for just veggies. The ingredients listed is enough for 1-1 1/2 pounds of meat, veggies, or a combination of both. Substitute principle ingredient as you wish.

I like it because I can alter the ingredients as I like, leaving out paprika and/or rosemary and savoring the garlic flavor............
Preheat oil in large, thick bottom pot or fryer, on medium-high heat.
Mix the dry ingredients together in a bowl, add liquids, and carefully stir together.
Dip veggies into batter and drop into hot oil, cooking until golden brown.
Remove and allow to drain over paper towel-covered plate, then serve while hot.
The Fat content under Nutritional attributes will be falsely high, as most of the oil drains away, and is not consumed.