Decadent and Easy Crab Bisque
twissis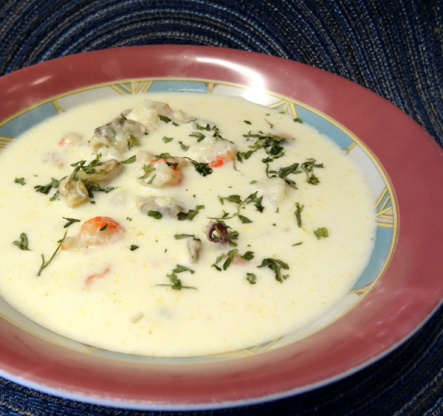 This is an easy and quick recipe that my sister and I devloped. It's definitely not in the low fat category but it sure is satisfying!

Made for the Agents of QUEST 2014 and served as a starter course for a family dinner, this soup was superb! 1 guest was known to have a big appetite and there were 2 teenagers, so I wanted to be sure I had enough. I also wanted to lighten it as there was a heavy meal ahead. So I expanded it and lightened it. I accomplished both by using an amt = to the cream(s) amt of my homemade lobster stock and by doubling a mixed seafood blend of crab, baby shrimp and mussels. I did omit the salt as DH is salt-restricted, but I added Old Bay Seasoning which we favor in seafood soups. The economy of Iceland relies on seafood and I plan to rely on your recipe to showcase it. Thx for sharing this tasty soup recipe w/us.
Saute onion in the butter, over medium heat, until translucent.
Add 2 T. of the flour to the onions, mixing well with a wooden spoon. Cook for about a minute.
Add 3 cups of the half-and-half, heavy cream, salt and pepper. Whisk while bringing up to a boil (you can turn up the heat a bit here - just be careful not to scald the cream).
Shake 2 T. of the flour and 1 cup of the half-and-half - using a jar with a lid. Shake until the flour is blended well.
Add to the soup by whisking. Keep whisking until the soup thickens.
Stir in the crab and cook for about 5 more minutes.
Ladle the soup into the bowls and garnish with snipped chives, if desired.