Dark, Rich, Creamy, Dense Chocolate Peanut Butter Pie!
Rita1652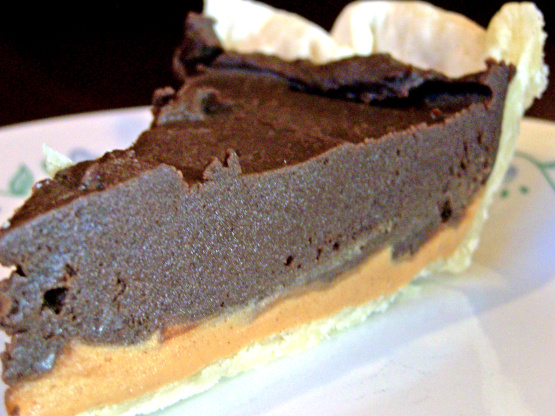 Sweet and Oh so GOOOOOOOD layered pie! Will fill that crave for rich chocolate.

The instructions are great and it is easy to make. Peanut butter filling had just the right amount of sweetness. However the chocolate's flavor and texture could be improved - IMO the cornstarch gives the chocolate a texture that doesn't marry well with the rest of the pie.
Peanut butter layer:.
Heat peanut butter in micro just to soften.
Stir in powdered sugar till smooth. Pour and spread into prepared pie shell.
Stir together sugar, cornstarch and salt in 2 quart pyrex measuring cup.
Combine egg yolks and milk add to dry ingredients.
Cook in micro, whisking occasionally, until mixture comes to a boil and thickens.
Microwave for 1 minute more.
Remove from micro, whisk pie mixture smooth.
Whisk in butter and vanilla.
Add 1 cup chocolate chips, stir until chips are melted and mixture is well blended.
Pour over peanut layer.
Refrigerate for 3 hours or overnight.
Garnish with your choice and do enjoy! :).