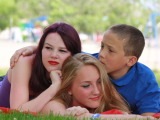 Tart and sweet this bread is best served warm with butter. Not to mention it is quick and easy too!
Directions
Mix all ingredients together. Put into loaf pan.
Bake at 375 degrees F fo.
r 1 hour or until done.
Drizzle glaze made of juice of 1 lemon and 1/3 cup sugar over hot bread.
Most Helpful
This bread was perfect served with spicy black bean soup. Loved the combination of flavors. Made for ZWTIII