JavaBird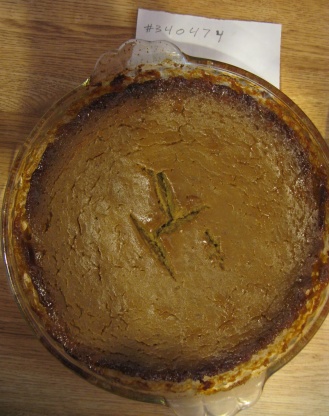 My great grandmother from England always made the best pumpkin pie, and the recipe has been passed along in the family for generations. When I became lactose intolerant, I was depressed by the notion that I would no longer be able to enjoy the pie at Thanksgiving because the original recipe was loaded with dairy. After a lot of experimentation and testing, I successfully converted the family recipe to a dairy free version I can enjoy, while maintaining the flavor and consistency of the pie that has made it such a hit. Family members who have tasted this new version were unable to tell a difference.

This was one of three non-dairy pumpkin pie recipes that I compared. It was a much softer pie than I prefer, was very sweet, and carmelized around the edges. The use of mace instead of cinnamon-ginger-nutmeg, though not unpleasant, was not the taste I was looking for. Of the three, this was my least favorite, though my husband thought it an acceptable substitute for a dairy-based pie. I do not often cook with tofu and was surprised the difference silken vs firm tofu made in the consistency of the pie (#399825 had firm tofu, this one had silken).

I compared with #399825 and #329506
In a blender, combine the silken tofu and honey until smooth, adding small quantities of soy milk until mixture has the consistency of sweetened condensed milk.
Combine pumpkin, tofu mixture, sugar, salt, butter, and spices in a sauce pan. Stir over medium heat until margarine has completely melted.
Add egg yolks to mixture and blend well.
Add lemon extract and blend inches
Gently fold in stiffened egg whites and let mixture cool for a few minutes.
Pour into pie crust and bake at 500 degrees for 8 minutes. Reduce heat to 325 degrees and bake for an additional 25-30 minutes.
Let pie cool for one hour before serving.
Baking hint: To prevent edges of piecrust from burning, take a square of aluminum foil and cut an 8" or 9" hole in the center. Lay over top of pie, exposing pie mixture but covering the edges of the crust. Bake pie according to directions above.