Juju Bee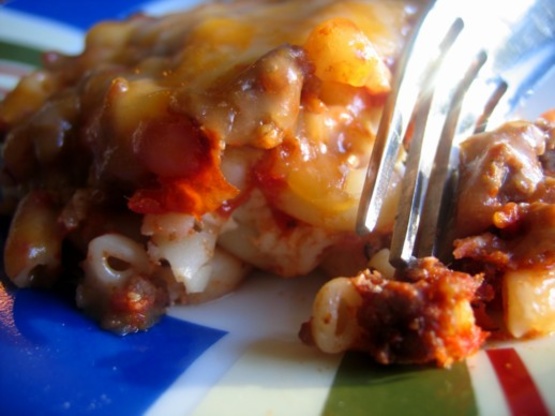 Complete comfort food. Great on a cold day.

Scrumptious! I love the richness and the spark of flavor from the green onions. I made it for two, so I halved the recipe and I also low-carb'd it (I used 2.5 cups of finely shredded cabbage instead of noodles). Thanks Bekah for posting this wonderful comfort food recipe!
Heat oven to 350°F.
Spray 2-3 quart casserole with non-stick cooking spray.
Cook noodles as directed on package.
Brown beef with garlic until cooked through.
Drain.
Add salt, sugar and tomato sauce and simmer for 5 minutes.
Combine sour cream, cream cheese and onion.
Layer 1/2 of the noodles then 1/2 of the meat mixture in casserole dish.
Spread with sour cream mixture.
Top with remaining noodles and the tomato sauce.
Bake for 30 minutes.
Sprinkle grated cheese on top and bake for another 5 minutes.
ENJOY!