PaulaG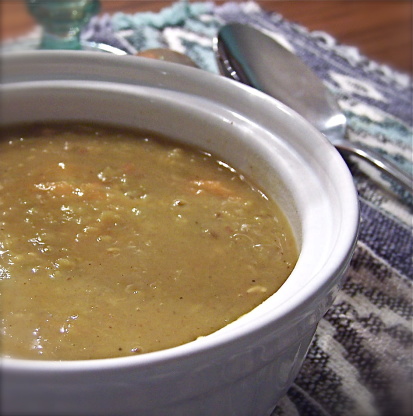 I found this on the Post Punk Kitchen website. It has a nice delicate flavour, lacks msg, and is super cheap to make. I use 1 tsp of salt but the recipe calls for two.

This is a great recipe, but I always tweak recipes to my taste so I increased the curry powder (2T) and added some garam masala (1t), and upped the nutritional value by adding some barley (1C), diced celery and carrots and chicken. I used homemade chicken stock instead of water, too, but the basic recipe alone is delicious. Great combination of spices!
Saute the onions in the olive oil at medium heat for about 5 minutes. Add garlic, ginger and spices. Saute 2 more minutes.
Add the water and stir well. Add the split peas. Cover and bring to a boil.
Bring heat back down to medium, let soup simmer for about an hour, until peas are tender. Grate in the carrot and serve. You can garnish with fresh cilantro if you have it on hand.