gailanng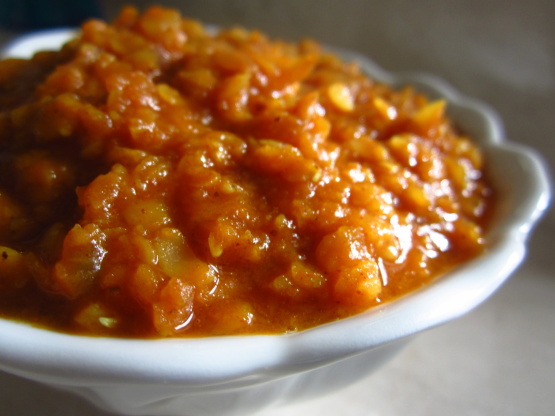 For me, this is comfort food. It only take about a half hour to make, and with some fresh pitas, it's a fantastic meal by itself.

This was delicious. I did have trouble locating the red lentils, but a friend found them at a specialty market and gave them to me. I doubled the recipe by accident [those little lentils are so tiny, it's deceptive]and had more than enough!!!! My husband and daughter didn't care for it,[they don't like to stray from what they are used to] but I loved it, as did all of my co-workers. It was lunch for my entire unit as well as most of the office. We ate it, as suggested,with pita bread.Absolutely fabulous!!! And now I'm on the prowl for more red lentils... Thanks for the great recipe!!!
Rinse the lentils in cold water until the water runs clear.
Add lentils and enough water to cover to a saucepan and simmer until the lentils are tender (about 30 minutes).
Add water if necessary.
While the lentils are cooking, caramelize the onions in the vegetable oil in a large skillet.
Combine the curry paste, spices, garlic and ginger in a bowl.
Mix well.
When the onions are cooked, add the curry mixture to the pan.
Cook over a high heat, stirring constantly for 1-2 minutes.
Stir in the tomat puree and reduce the heat to a simmer.
Cook the curry base until the lentils are ready.
When the lentils are tender, drain off any exceess water and add the lentils to the curry mixture.
Combine thoroughly and serve immediately.