Prep 10 mins
Cook 15 mins

an easy quick side dish, with little preparation time.
Directions
Ina large saucepan, combine chicken broth, raisins, curry powder, and salt and bring to a boil.
Remove from heat, and stir in couscous. Cover and let stand for 5 minutes.
Fluff with fork and cook uncovered.
Combine oil, lemon juice, sugar, and almonds and toss with couscous.
Sprinkle green onion over top and serve.
Reviews
Most Helpful
This is one of the best couscous dishes I have had! Great combination of flavors. I made a couple of changes, though. We don't care for raisins, so I used dried cranberries, and since they are sweetened, I left out the sugar. I use a spicy curry powder, so this had a nice bite to it. And loved the crunch of the toasted almonds. Went great with a salmon filet. Made for Best of 2011 game.

What a wonderful dish. I made this as written with the golden raisins, lemon juice, and olive oil. I toasted the slivered almonds in the oven too until light brown. Only change was to use vegetable broth in place of chicken broth. Served with Spicy Carrot and Zucchini Bhaji, yogurt raita, and peach chutney. It was the perfect side dish for this meal. Thanks, weekend cooker!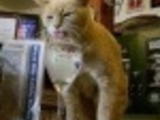 Loved this great couscous! I used regular raisins instead of golden and chives instead of green onion as that's what I had on hand. The curry was great with the raisins and almonds and provided a great flavor. I did use only about half of the olive oil with the lemon juice. Thanks for sharing the recipe!