Cucumber Lime Jello Salad
Annacia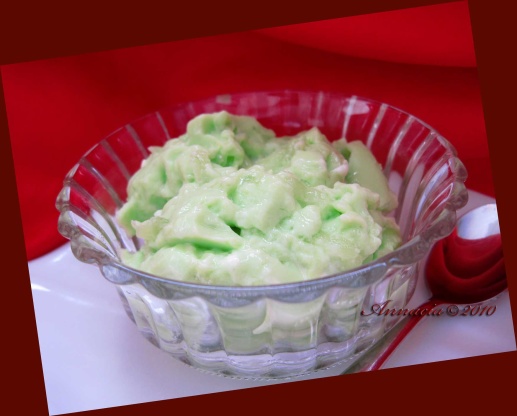 A cool and refreshing "salad" for a hot summer day!

I cut the recipe in half (using sugar free Jello) and after reading Taste Tester's review I mixed the (95% fat free) cream cheese into the hot jello before adding the cold water. As to the cuke, I peeled it, scraped out the seeds and grated it. Then I wrapped it well in paper towels and let them soak up a lot of their water until the jello mix started to thicken and then stirred it in. It was good with just the cuke but I really think that the addition of some crushed pineapple would help add a little something to the flavor profile and give it a little boost. Made for Photo Tag.
Peel the cucumbers and cut into small cubes.
Cut the cream cheese into small cubes.
Put the cucmber and cream cheese cubes in a serving dish (I usually use a 9x13 glass baking dish).
Dissolve the Jello mix in the boiling water.
Stir in the cold water.
Pour the Jello over the cucumber and cream cheese.
Refrigerate until Jello is set (3-4 hours).