Lalaloula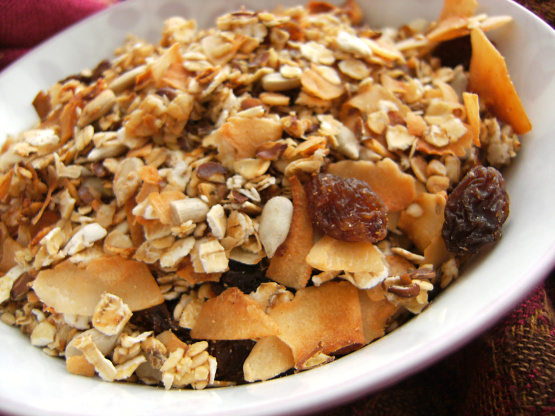 I adapted this easy-to-make granola from the first Harrowsmith cookbook (I made a big reduction in butter and it still works). Because we have a houseful of people, I usually double the amounts shown here. If you feed a crowd, too, make sure you have a large enough pan. My ceramic roasting pan—which is 11" x 14"—holds a double recipe comfortably. UPDATE: At an exchange student's request, we are now adding cinnamon. Good addition. The recipe has been revised accordingly.

WONDERFUL granola!!! I cut the oats to 3 cups so I could add lots of nuts ~ pecans, almonds, and macadamias. I used ground flax meal instead of wheat germ, pepitas instead of sunflower seeds, golden flax seeds instead of sesame, and I also added 1/4 cup chia seeds. I used organic coconut oil instead of butter, raw tupelo honey, almond milk and sea salt. I did add the cinnamon (1 teaspoon) and I was so very glad I did. This smelled heavenly while baking, and I stirred every 4 minutes as even 5 minutes was crisping some of the oats! I added dried organic blueberries once it came out of the oven. Was going to use dried banana chips, but DH has already eaten them, but will try those next time. I think I like this better than my own granola recipe LOL It's a wonderful recipe Peggy ~ so glad I chose it ! Made for ZWT 6 - GERMANY/BENELUX for the Queens of Quisine.
Preheat oven to 350 degrees.
Combine all the dry ingredients in the baking pan (first six items). Add raisins (or other dried fruits) after cooking.
Heat the butter, honey, milk and salt in a small saucepan until all the butter melts.
Dribble honey–butter mixture over dry ingredients, and mix well to moisten all the dry ingredients.
Bake for 20-30 minutes (depending on how hot your oven runs), stirring frequently.
This can easily over-brown (burn), so keep an eye on it.
Remove from oven and stir in the raisins or other dried fruit.
When cool, store in an airtight container. It keeps very well.