twissis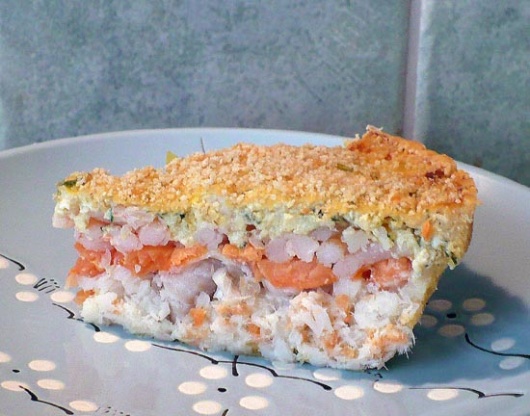 Use any kind of fish you like in this pie. The filling is gorgeously thick and creamy.

I served this as the starter course for a dinner party my DH esp wanted to be impressive. *It was wonderful* , got raves from our guests & set that impressive tone for the whole meal. I made my own pastry using Recipe #177343 & used Icelandic baby shrimp w/Atlantic cod + smoked lake trout, both caught by my DH. I used a generous amt of lemon pepper & Old Bay for the S&P in the sauce & leek for the spring onion as they are rarely found here, even in the spring. Altho straight-forward, assembly was a bit challenging. I carefully weighed & layered the seafood, but the total wt was 1.32 lbs & nearly filled the pie shell. To allow for adding the sauce, I compressed the seafood & the result was that the lovely sauce tended to sit atop them rather than infuse its creaminess thru the seafood. Some of the sauce was even left out for lack of room for it. This amazing recipe is certain to be repeated & I will reduce the seafood to 150 gm ea (total 1 lb). This was made-ahead, cut easily & was served just warm from the microwave. Thx for sharing this new keeper w/us. :-)
Roll out the pastry and line a 20cm tart tin. Chill the pastry case for 30 mins, then bake blind in a preheated oven at Gas Mark 6 for 15 minutes. Remove the paper and beans and return to the oven for 5 minutes.
Put the fish, milk and bay leaf in a saute pan and bring to a gentle boil. Simmer for 3 minutes, remove from the heat, cover with a lid and leave until cold.
Strain the liquid into a jug, discard the bay leaf and set aside.
Flake the fish into large pieces and put them in the tart case with the spring onions and prawns.
Put the reserved milk and cream in a saucepan with the flour and butter. Stir constantly over a low heat until the sauce thickens and reaches boiling point.
Allow to simmer for 2-3 minutes, then remove from the heat and stir in the parsley. Season well with salt and pepper and pour over the fish.
Sprinkle the breadcrumbs over the top and bake at Gas Mark 6 for 20 minutes.