diner524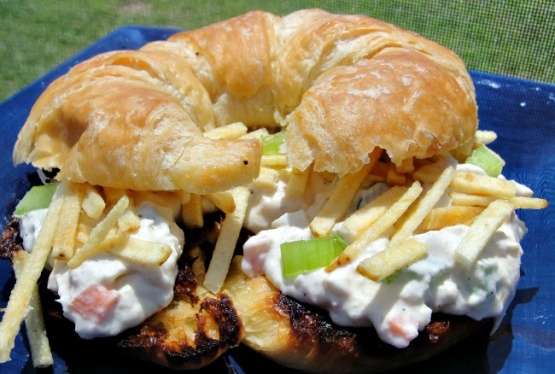 This is unbelieveablly good! The shoestring potatoes (like french fried onions) add the crunch.
Awesome chicken salad!!! I made 1/4 of the recipe and loved all the wonderful crunchy veggies in it!!! Plus it is so flavorful with the onion, carrots, celery and potato sticks. I was at the store this morning and saw 2 nice looking croissants in the bakery, so I grabbed them to use for our sandwiches. I wasn't sure what to expect from using the potato sticks and actually was kinda disappointed that they were standing out as much as I hoped!! They still added a great crunch factor and I am sure some added flavor, just not as stand out as I hoped. The only thing I changed was to add a bit of salt and pepper. Definitely a recipe I would make again. As the only other reviewer stated, you could cut back on the amounts of the cream and mayo, but I found them to work well with the stated chicken. Thanks for sharing the recipe. Made for 2013 Spring Pick A Chef event.
Combine everything but potatoes, just before serving toss in potatoes.