Bergy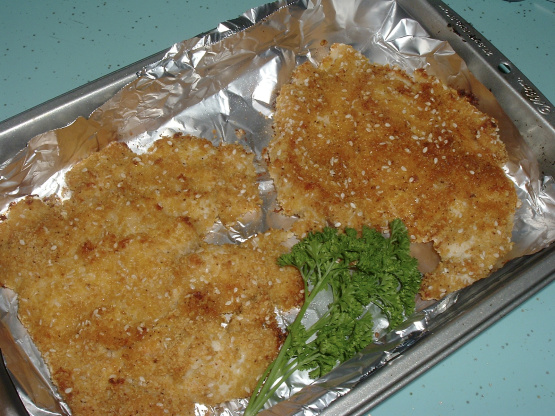 This was one of my favorite recipes when I was in Weight Watchers. My teenage son also likes this very much and frequently still requests that I make it. I am posting it because I do not want to lose this recipe, and it had been misplaced for a few months and just found again today. This recipe is written for 1 person, but ingredients can be increased as needed.

This was very delicious!! The only problem I had, was that it was not very crunchy. The bottom was pretty soggy. Does anyone have any suggestions on how to make it a little more crunchy? Thanks for the great recipe!
Pound the chicken breast thin then brush with the milk.
Combine the cereal, sesame seeds, paprika, salt and pepper; coat the chicken with this mixture and place in a non-stick baking pan.
Dot the chicken with the margarine.
Bake at 400°F for 15 minutes or until done.