Nif_H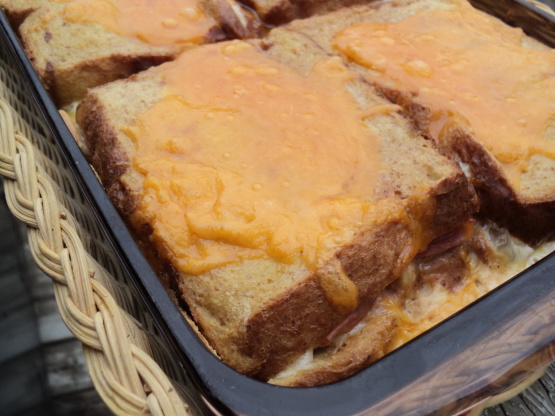 This is another Nigella recipe.

Top Review by Nif_H
This made for a wonderful Sunday brunch! I put this all together last night and today I baked it for about 10 minutes more than directed, as I usually do with my oven. The recipe was increased so that 4 of us would each get a sandwich. It was filling and very tasty and I really liked the slight kick of Dijon. Made for my adopted chef for PAC 2011. Thanks nortocbaking101! :)
Spread each slice of bread with mustard.
make sandwiches by putting cheese in then a slice of ham between 2 slices of bread
Cut each sandwich in half to make triangles.
squish sandwiches into an ovenproof dish about 27x21x6cm.
Beat together eggs and milk, pour over sandwiches.
Cover with clingwrap and leave overnight.
Next day preheat oven to 390 degrees farenheit.
take dish out of fridge and remove clingfilm.
Sprinkle with the cheese and bake in the oven for 25 minutes.