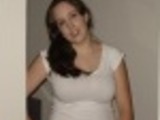 Directions
Sprinkle one side of steak with salt and pepper, parmesan cheese, and parsley flakes.
Roll up and place in crock pot. (I sometimes secure with toothpick, but be careful when eating.).
Mix tomato soup, vinegar and oregano and pour over steak.
Cook on low 8-10 hours.
Serve with rice or mashed potatoes.
Most Helpful
Not what I expected, it came out very dry and a little tough. I made exactly as the recipe called for. Next time I will add a little more liquid.

This was not so much my cup of tea but my husband really liked it. It was very tender. I should have tied or picked the rolled steak together as it did come apart quite a bit. The sauce is (of course) very srong tomato. You can more smell the cheese (which is nice) than taste it. I think the sauce would make a nice base for a soup. Add in chunks of the leftover beef, a few veggies, and some pasta and it would be great -- except that my husband has claimed the meat for sandwiches tomorrow! Thank you for posting your recipe.