loof751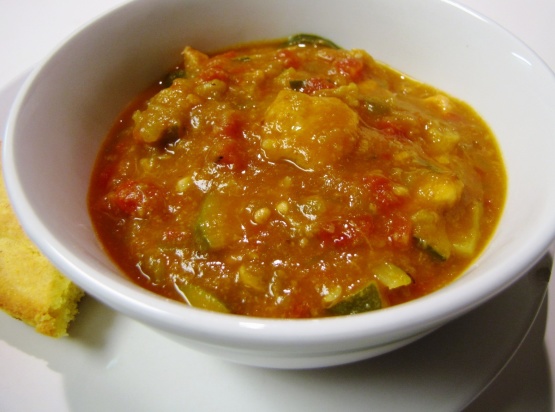 A favorite for over 30 years in my house! I don't remember where I got the original, but I have altered it for the crock pot. For stove top, simply increase water to 2 cups.

Wonderful, flavorful chili! I don't care for onions so left them out and added an extra clove of garlic. This is already a healthy soup, but I lightened it up a bit more by replacing half of the pork with sliced zucchini. Hearty and great flavor - thanks for sharing the recipe!
Cut pork in 1/2 inch cubes.
Dredge pork in flour.
Heat shortening in fry pan, brown pork well.
Add onion and garlic, cook until soft.
Put pork mixture, tomatoes, chiles, oregano, salt and water in crock pot.
Cook on high for 4-6 hours, or until pork will break apart with a fork.
Serve in bowls with grated cheddar or Jack cheese on top, or wrap 1/2 Cup with cheese and refried beans in a 10" flour tortilla.