Crock Pot Chicken Fajitas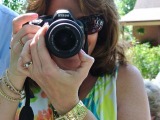 A great, no fuss way to make chicken fajitas. I serve them with Mexican rice and refried beans. A big favorite here.
Directions
Place chicken and onions (and peppers, if using) in crockpot. Sprinkle spices over all. Add the lime juice and stir well.
Cook on low for 4-6 hours. If you start with frozen chicken breast, you might need to cook for longer than 6 hours.
Serve in warm tortillas with your favorite fajita toppings.
Reviews
Most Helpful
Easy, yummy, healthy -- my kind of dish! I made it even easier by prepping everything the night before and tossing it in a freezer bag. Threw it in the crockpot this morning and dinner was ready when I walked in from work! DH, DS, and I all loved it. I also used already frozen peppers to make it even easier. ;) We served it with Creamy Nonalcoholic Margaritas and Kids Love 'em South of the Border S'mores for a full on mexican fiesta! Thanks so much for sharing -- it's a keeper!

Delish! Made it for a Cinco de Mayo party and enjoyed leftovers for lunch. Very easy and good!
My husband really liked this. I used whole boneless breasts and thighs. Kinda chunked it up after it was cooked. Served with rice and beans.

Get Healthy Your Way