Croatian BBQ Burger (Pljeskavica)
nitko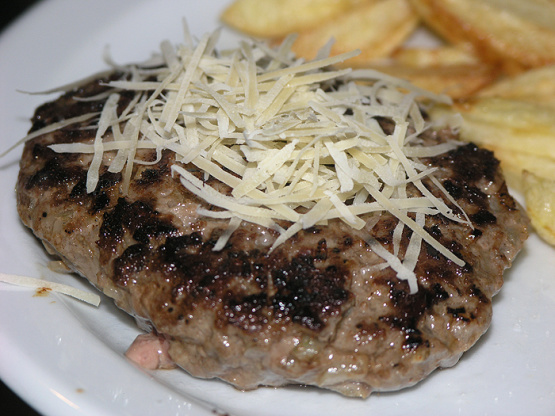 This is similar meal like chevapchici but instead of sticks you have a whole burger. There is also little difference in ingredients.

This was amazingly simple and extremely yummy!!! I put it right on hamburger buns. What a keeper! Thank you for sharing! LA :-)
1000

g ground beef (grounded, preferably young beef)

150

g onions

3

teaspoons salt

2

teaspoons pepper

1

teaspoon paprika (red, dry, grounded, hot)

1

cup water (carbonated)

100

g goat cheese (goat, hard)
Take twice grounded beef. Very finely mince garlic and onion and put them into meat. Season it with salt, pepper and paprika. Add water. Mix well with hand and let it stay in refrigerator for 2-3 hours.
Make burgers and put them on fire. They must be rose inside, do not overdo it.
Serve with fresh salted onion and bread.
Grate goat cheese and sprinkle over warm pljeskavica and serve.