twissis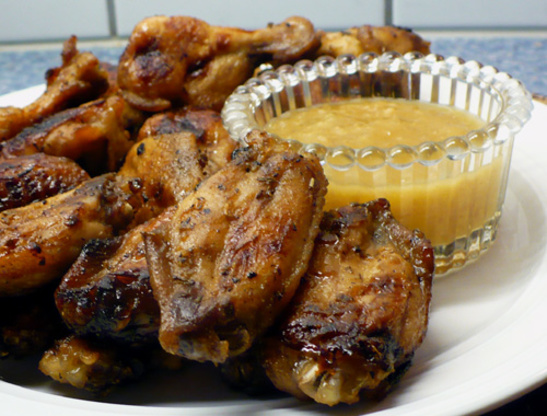 I am always looking for a different type of chicken wing recipe. The cooling time includes the marinade and dipping sauce prep. The last 5 ingredients are for the dipping sauce starting at the apricot jam or marmalade.
Place the chicken wings onto a baking sheet, lined with aluminum foil.
In a small bowl, add the garlic, shallots, mustard, paprika, thyme, brown sugar, cayenne pepper, and Creole seasoning. Stir and then add in the lemon juice to create a paste. Using a pastry brush, brush the mixture over the chicken wings. Let the chicken wings absorb the marinade for 30 minutes at room temperature.
Bake in a 475F degree oven for 15-20 minutes. Turn the chicken wings over and bake for another 15-20 minutes or until browned and crisp.
To make the apricot dipping sauce, melt the apricot jam in a saucepan over low heat. Add in the mustard, pimiento and apple cider vinegar. Serve this as the dipping sauce for the chicken wings.