sydsmama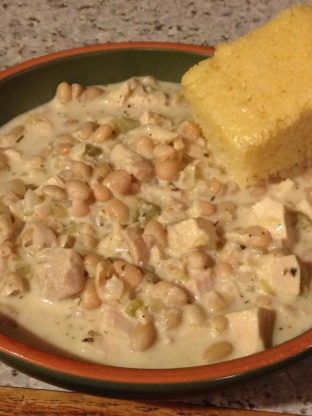 An interesting, different chili that uses chicken. Yummy!

I make this recipe often and get rave reviews! Whenever I bring it to potlucks there are NO leftovers, and several ask for the recipe. I omit the whipping cream and it hasn't seemed to affect the recipe at all. Also, I use homemade chicken broth (about 1 1/2 cups), about 2 cups dried beans (soaked overnight), and paprika instead of cayenne and it's still delicious!
In large saucepan, saute chicken, onions and garlic power in oil until chicken is no longer pink.
Add beans, broth, chilies and seasonings.
Bring to a boil. Reduce heat; simmer, uncovered, for 30 minutes.
Remove from heat; stir in sour cream and cream.
Serve immediately.