Creamy Spinach Mushroom Lasagna
Julesong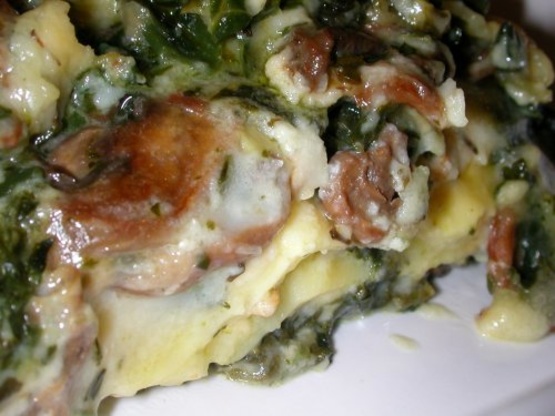 This is a very rich, very tasty lasagna for when you're feeling like indulging. An "oh my goodness" with much rolling of eyes and moaning with pleasure kind of lasagna. :) You might want to serve it in smallish pieces so that people can eat it, love it, and still have room for seconds. I wanted a rich lasagna when I created the recipe, and that's how it came out - I'm very pleased with it!

This lasagna is absolutely fabulous. I made it for my [picky] family, and even my sister enjoyed it. It's very rich, so it would be best to serve it with a side salad or even some bread or other veggies. I used havarti instead of provalone or jarlsberg, and it was delicious. One suggestion I will make [especially if you really like mushrooms] is to add one or two extra cups of sliced mushrooms, since those buggers really cook down a lot. And also, have all of the ingredients prepared before you start the actually cooking [with the exception of the lasagna noodles...cook those ahead of time], because once the cooking starts, it goes pretty quick, and there's no time to be shredding cheese or mincing shallots. All in all, though, this is a delightful change from the standard tomato-based lasagna.
Preheat oven to 350 degrees F.
Cook the lasagna noodles according to the package directions; drain, rinse immediately with cold water and then drain again; toss with 1 Tbsp olive oil and set aside.
Melt 2 tablespoon butter in a large sauté pan over medium-high heat; add the mushrooms and cook until golden, about 5 minutes.
Reduce heat to medium and add the green onions, shallots, and garlic, and sauté for 3 minutes.
Add the drained, chopped spinach, white pepper, and salt, stir well and sauté for an additional 5 minutes.
Transfer the mushroom/spinach mixture to a bowl and set aside (do not rinse out this pan - we're going to use it again in the upcoming steps).
Over medium heat melt the remaining butter in the previously-used saucepan; add the flour and cook, stirring constantly to keep it from browning.
Gradually add the chicken or vegetable broth, cream, and vermouth; cook, stirring occasionally, until smooth and thickened, about 5 minutes.
As soon as sauce begins to boil, remove it from the heat and season with thyme and basil.
Combine the shredded cheeses together until well mixed.
Butter, oil, or lightly spray the bottom of a 9x13-inch baking pan.
Pour the half-and-half into the bottom of the baking pan.
Lay 4 cooked noodles in a single layer in the pan.
Layer with 1/3 each of the mushroom/spinach mixture and shredded cheeses, then coat with 1/3 of the sauce.
Repeat the process twice, ending with the sauce.
Sprinkle with grated Parmesan (if using).
Cover the pan with foil and bake at 350F for 20 minutes, then remove foil and bake 20 minutes longer.
Remove from oven and let sit 15 minutes before serving.
Makes 8 to 10 servings.