Creamy, Salsa Dip (3 Ingredients, 3 Minutes!)
lizzy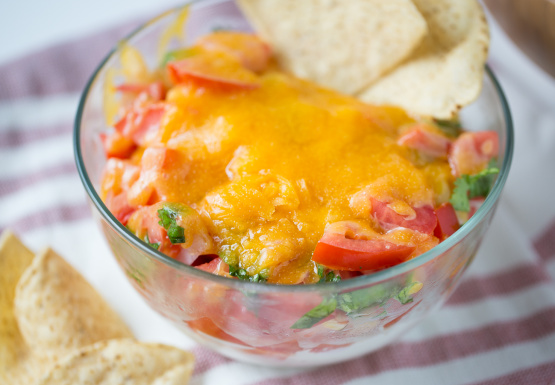 This dip is a must have in my fridge all the time recipe. My husband eats it almost everyday at some point. It's really quick and fast to make and boy, is it good! I have never met anyone that doesn't like to dip some corn chips into this creamy dip!

This certainly cured my terrible case of the munchies last night!! It was so good!!!! After hunting and hunting through the fridge, I realized I was out of salsa. So I just chopped some fresh tomato and jarred jalapenos and it worked out great!! :) Thanks so much!! Actually ate this with crackers, but I would serve with red bell peppers or tortilla chips to company. LOL! Made for the ZWT5! :)
Simple way: Put all ingredients in a bowl and microwave for 2 minutes on high.
Stir and put back in for 1 minute.
Stir and serve warm or store in fridge.
Fancy way:.
Spread cream cheese on the bottom of an 9x9 glass baking dish until covered.
Spread salsa over cream cheese.
Sprinkle shredded cheese over salsa.
Melt in microwave on high for about 3 minutes, or until cheese is completely melted on top.
This creates a nice layered look and is pretty on a table.