Creamy Raisin Rice Pudding
Prep 10 mins
Cook 10 mins

Directions
Combine rice, water and salt in 3-quart saucepan.
Bring to a vigorous boil. Reduce heat, cover and simmer until all water is absorbed, about 3 minutes.
Combine sugar and cornstarch.
Add milk, sugar mixture and raisins to rice.
Heat to boiling; boil 1 minute, stirring constantly.
Remove from heat. Stir in butter and vanilla.
Slowly stir about 1 cup of the hot rice mixture into egg yolks in bowl.
Stir into remaining mixture in saucepan.
Cook over medium heat, stirring frequently, just until mixture starts to bubble.
Serve warm or chilled. Garnish with cinnamon and nutmeg.
Most Helpful
I LOVED this!!! I've made a few homemade rice puddings and this is by far the best and I can't believe how easy it was to make! This is my new favourite rice pudding recipe!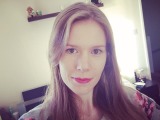 I used brown rice, as it's the only kind I have in my house from now on. I also used Splenda for the sugar, and I added in the cinnamon and nutmeg (1/2 tsp. each) into the rice water when I was cooking it. It smelled so good while it was cooking I couldn't wait to have some! It turned out creamy and thick and so good! I topped mine with some FF Cool Whip and sat back and enjoyed every bite! Now I can have it with brown rice and not feel too guilty about having dessert! Thanks Redsie for this yummy dessert! I have a strange feeling me and this pudding will become best friends :) Linda

This was WONDERFUL! Who needs storebought when this is so much more flavorful, and so easy to make. I did mix the cinnamon in instead of using it as a garnish for personal preference, but YUM!! Will make again!