Rice Pudding With Raisins and Cinnamon (Arroz Con Leche)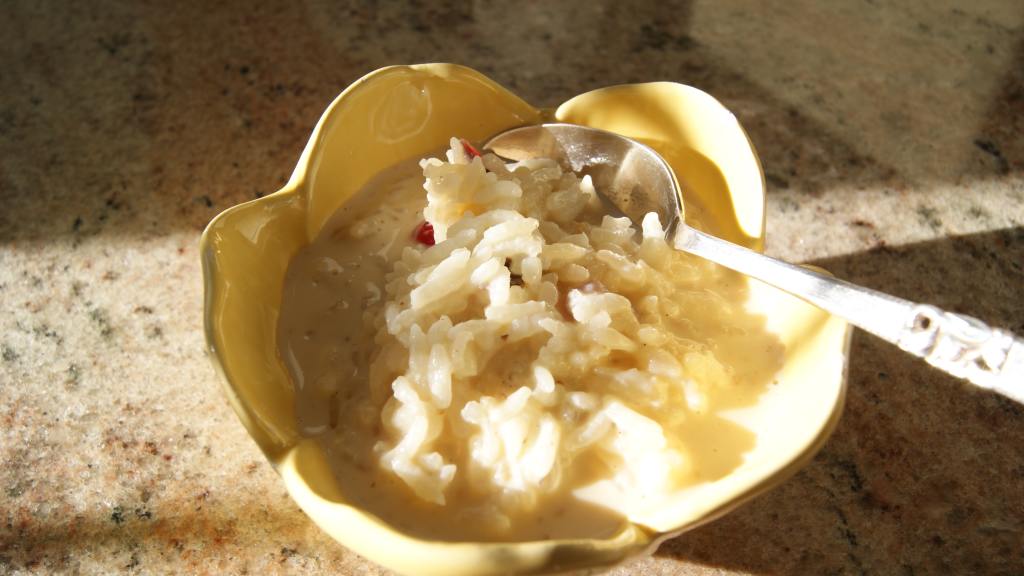 Ready In:

55mins

Ingredients:

14
directions
Bring 2 cups water to boil in medium saucepan.
Remove from heat.
Add rice; let stand 15 minutes.
Pour rice into strainer and drain, then rinse rice under cold running water until water runs clear.
Bring 4 cups water to boil in large saucepan.
Add rice, lemon peel strips, and salt and return to boil.
Reduce heat to low cover and simmer until rice is almost tender, about 10 minutes.
Drain and discard lemon peel.
Combine 5 cups milk, sweetened condensed milk, evaporated milk, and 2 cinnamon sticks in large saucepan.
Scrape in seeds from vanilla beans; add beans.
Bring to a boil.
Reduce heat to medium and boil gently until mixture thickens and is reduced to 2 3/4 cups (45-50 minutes).
Remove vanilla beans and cinnamon sticks.
Stir in rice, raisins and sugar.
Continue to cook on low; stirring until raisins are plump and flavors blend, about 5 minutes.
Spoon pudding to bowls,.
Sprinkle with ground cinnamon and grated lemon peel.
Garnish with cinnamon sticks, if desired.
Join The Conversation
Galley Wench, I too had a boil over too changed pots no problem. This is very good quite rich rice pudding; and it is time consuming. I'm planning on serving the rice pudding with whipping creme I expect it will be very good ice cold that is the way we enjoy our rice pudding. I used very good vanilla beans and cinnamon sticks. Next time I think I will not cook down the milk down as much I liked the way it looked and tasted better in the beginning before cooking down to 2 2/3 cups of milk product. I also think I will use a slow cooker on low heat until the milk product comes to a simmer then put it on warm with the lid off to help it reduce without a boil over which scalds the milk and start early in the morning I think it will be ready to use around 2:00 or 3:00 PM in the afternoon and next time I will not cook my rice again only the first time using the lemons. The rice pudding goes into the refrigerator right now and will be all gone in a couple of days at coffee time with our neighbours thank you, for posting!

This was my first stab at making rice pudding and I was very pleased with the results. It took me about an hour and a half to boil down the milk mixture and at one point I wasn't paying attention to the mixture and had a boil over, but other than that it went well. I added some chopped walnuts. I also used 1 teaspoon of good quality vanilla extract and the next time I make this I will either double that or use vanilla beans like the recipe calls for. Thanks so much for the recipe! I reviewed this for ZWT5.

I'm not really a raisin lover, but I do love rice pudding and they taste excellent in this! I used real vanilla in place of the beans. It worked great. I don't think I would use the cheap stuff though, as it really has an impact on the flavor in this dessert. I dolloped some whipped cream on top and both my DH and I had this wonderful dessert! I don't think it will make 8 servings for us :) More like 4. Thank you for sharing!
RECIPE SUBMITTED BY
"Life is not a journey to the grave with the intention of arriving safely in a pretty and well preserved body, but rather to skid in broadside . . . Chardonnay in one hand . . .chocolate in the other; the body thoroughly used up, totally worn out and screaming "WOO-HOO, what a ride!!"
View Full Profile