Parsley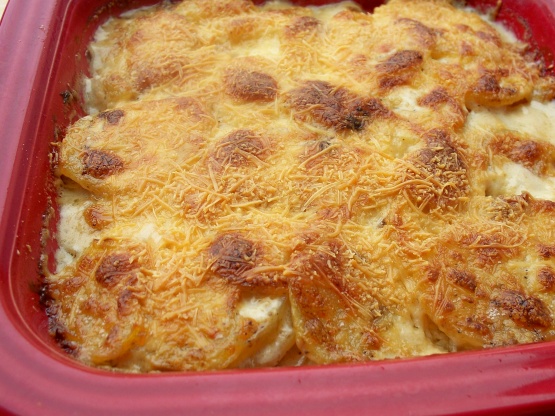 I love serving this with baked pork chops. Make sure to use freshly grated Romano cheese. This is a great side dish for a romantic dinner for two.
Preheat oven to 375 degrees; butter a 1 1/2 quart gratin dish.
In large skillet, melt butter over medium high heat.
Reduce heat to medium; add onion and cook, stirring occasionally, about 10 minutes, or until golden.
Stir in thyme.
Remove skillet from heat, set aside.
In medium saucepan, bring cream to boil.
Stir in potatoes and cook 5 minutes, or until potatoes are just tender.
Stir in salt and pepper.
With slotted spoon, alternately layer potatoes, onion mixture and cheese in prepared dish.
Drizzle any remaining cream mixture from pan over gratin.
Bake 35-40 minutes, or until top is golden brown.