Creamy Chicken With Biscuits
rpgaymer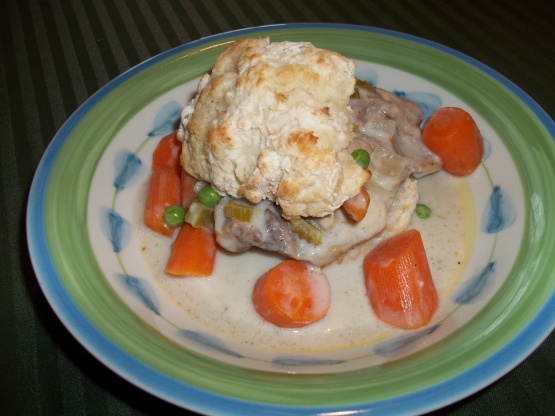 A simply and delicious crock-pot recipe from REAL SIMPLE magazine (March 2011).
This is one of the better crock pot recipes that I've come across. I'm not a big fan of cream sauces, but this sauce won me over. Very flavorful and not as rich as it looks. I loved how the biscuits soaked up the sauce. [Made & Reviewed for PAC Fall 2013]
In a 4 to 6-quart slow cooker, toss together the carrots, celery, onion and flour. Place the chicken on top and season with the poultry seasoning, 1 teaspoon salt and 1/4 teaspoon pepper. Add the wine and broth.
Cover and cook until the chicken and vegetables are tender, on low for 5 to 6 hours or on high for 2 1/2 to 3 hours.
Ten minutes before serving, add the peas, cream and 1/2 teaspoon salt to the chicken and stir to combine. Cover and cook until heated through, 5-10 minutes more.
To serve, place the bottom halves of a biscuit in a shallow bowl, then top with the chicken mixture and the remaining biscuit halves.