Creamy Chicken-pasta Soup
Food.com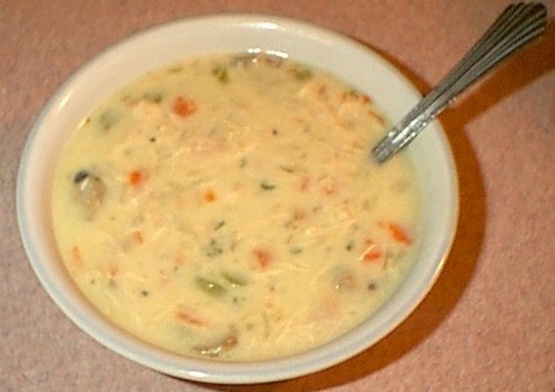 Sugar snap peas add crunch to this comforting soup. The J. Alexander's Restaurant in Troy , MI uses penne pasta, but macaroni would also work well. rich and creamy, and full of goodies!

I guess we're relly slow up here! Cut this out of the food section of our paper about 3 weeks ago,and made it last night. Didn't know it'd been here awhile. We all liked it - especially my daughter-she loved that broth! I didn't add the lemon juice but I did add a decent anount of dried thyme leaves,and I think that added a lot to the flavor.Definitely naking it again when autumn comes around again - still waiting for spring! Thanks.
Melt butter in heavy large pot over medium heat.
Add mushrooms, celery, carrots and onion.
Cook until celery and onion are tender, about 5 minutes.
Add flour and cook 3 minutes, stirring frequently.
Gradually mix in chicken stock.
Bring soup to simmer, stirring frequently.
Add half and half and chopped parsley and simmer 5 minutes.
Add chicken tenders and simmer until cooked through, about 5 minutes.
(Chicken soup can be prepared 1 day ahead. Cool slightly. Cover and refrigerate.) Cook penne pasta in large pot of boiling salted water until just tender but still firm to bite.
Drain pasta.
Bring chicken soup to simmer.
Mix in cooked pasta and sugar snap peas and simmer 2 minutes.
Mix in lemon juice; season to taste with salt and pepper.