Creamy Chicken Noodle Soup With Apples
2Bleu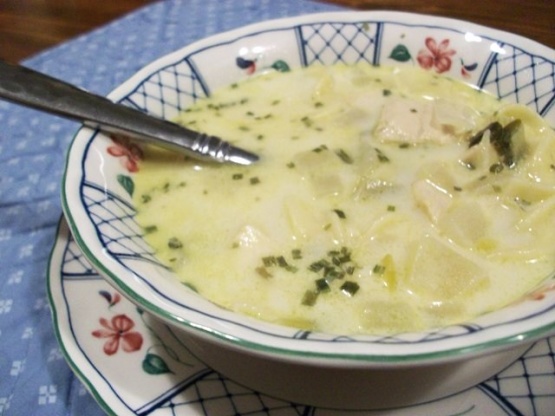 This is a wonderful and easy soup to make with a unique flavor of apples. Once you have everything prepped and ready, it comes together in a snap! Note: Calvados is a dry apple brandy made in the Normandy region of France.

I absolutely don't mind using something like Calvados in a recipe when I know that the alcohol will burn off leaving a great fruity flavor behind! Made this recipe exactly as given & we had an absolutely wonderful new way for me to make this kind of chicken soup! Definitely a winner & a keeper of a recipe! [Tagged & made in Please Review My Recipe]
Heat butter in a saucepan. Add leeks and Granny Smith apple, cover and simmer until tender, for about 5 minutes.
Add the Calvados and reduce until almost evaporated. Stir in the cider vinegar, broth, apple cider and bring to a simmer.
Add the chicken and egg noodles to the broth, cover and cook until the chicken is cooked through, about 5 minutes.
Stir in the heavy cream, Gruyere and season to taste with salt and pepper. Garnish with chives.