Creamy Chicken Noodle Soup
Prep 10 mins
Cook 50 mins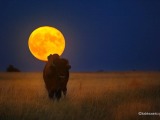 Here is a flavorful chicken soup that was taken from the newspaper, and although there are many chicken soup recipes out there, I am sure that this one will hit the spot! This soup freezes well, also. :)
Directions
In a dutch oven or large saucepan, cover chicken with water and bring to a boil.
Reduce heat, and simmer for 40 minute or until chicken is tender.
Remove chicken from broth (reserving broth), bone chicken and discard the skin and bones, setting chicken aside.
Saute celery and onion in butter until soft, then add flour and cook until golden brown.
Add reserved broth, salt and black pepper and bring to a boil.
Add noodles and cook until noodles are tender, stirring occasionally.
When noodles are tender, stir in the chicken meat and the half& half (or milk) until heated thru.
Serve with warm whole wheat rolls!
Mmmmmmm.
Most Helpful
This is a good comfort soup! I had two jars of precooked shreaded chicken, so I just used 8 cups of chicken broth and added 1 cup of heavy cream (all I had)at the end. I also added garlic to the celery and onion as suggested by another review. It isn't a fancy or spice packed recipe, but it is good and very kid friendly. I love soup, but hesitate cooking it for younger kids because normally it isn't very popular. A picky 5 year old ate her entire bowl (surprise!)

Very delicate flavor, and after reading the other reviews, I added a bit of garlic to the sauté mixture. It was surprisingly fast to make too. I bought it a big, beautiful organic chicken at the market this am--feet and all, and picked off the meat. I had WAY too much meat, but it was a big chicken, so I saved about half for another recipe. Used 15% creme fraiche for the cream, which thickened it up even more, and had to add a bit more liquid. When I did that, it was a little too bland, so I tossed in a bouillon cube to perk it up. You can really taste the cream in it--DH will be thrilled! Will be lunch today with white asparagus and mayo sauce and some very nice French bread. A very pretty pale white lunch. Thanks!

This was nice and creamy, very good on a cool evening, served with some buttered bread. However, I felt that it was a bit bland, as is, and would recommend experimenting with spices to liven it up a bit. It was, however, easy and convienent to make, and full of potential - with a few additional spices, it could easily move up to five stars (in my opinion). I will be making this again - thanks for sharing!