Creamy Broccoli Tomato Cheese Soup
Parsley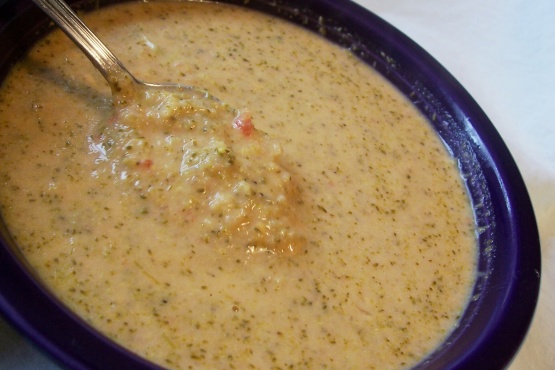 This is an easy soup to make. The tomatoes give it more of a "zing" than other broccoli soups. I usually don't puree it completely smooth, but some prefer it that way.

This soup was pretty good and easy! The kids and hubby all loved it! I did add in 2 cloves of garlic to the broth and 2 tbsp of cornstarch to the milk to make it thicker. I used cheddar cheese, but unfortunately it did not melt, just clumped. Next time I will try Velveeta and see if that melts better. Overall, a quick and easy soup! Thanks for sharing!
Place onion, broccoli, tomatoes (with juice), broth, pepper, and curry powder in a large soup pot. Bring to a boil. Reduce heat slightly and cook until broccoli is very tender; about 12-15 minutes.
Puree, using an immersion blender/blender/food processor, until desired consistency. (I usually do not completely puree it).
Return to soup pot over med-low heat and stir in milk and cheese. Stir and cook until heated through and cheese is melted.
Add salt if needed, to taste.
Serve.