Creamed Spinach with Sour Cream
Rita1652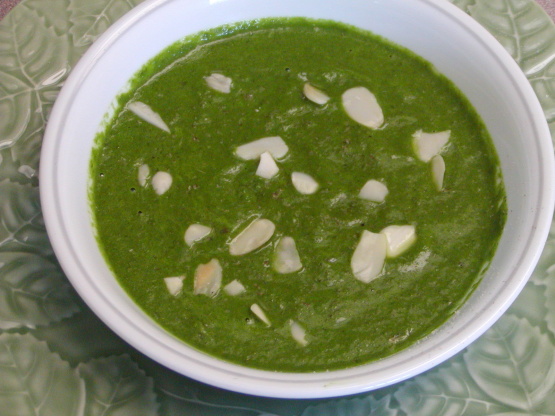 My 'middle' son won't eat anything with 'green' in it. He will eat this though. Very simple and delicious.
Cook spinach in the water clinging to the leaves, covered, over moderate heat, stirring occasionally, for 3 minutes, or until it is wilted.
Drain spinach in a colander, refresh under cold water, and squeeze dry by handfuls.
Transfer spinach to the processor, add broth and puree mixture.
In a large skillet, cook shallot in the butter over moderately-low heat, stirring, until translucent.
Add spinach puree and sour cream.
Combine mixture well.
Stir in lemon juice, sugar, nutmeg and season to taste.
Cook mixture, stirring, until just heated through.
Transfer to a serving dish and sprinkle with almonds.