Cream of Carrot Soup With Ginger and Rosemary
Brenda Z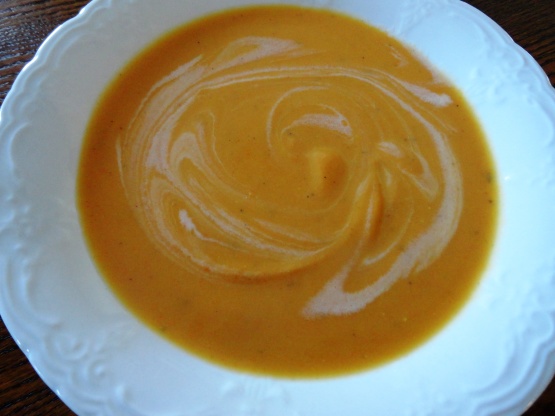 I don't remember where I got this recipe from but it is one of my favorite "entertaining" soup recipes. When we have guests for dinner I always include a soup as a starter, and this one is always a hit with its delicate flavor and smooth consistency. My children always enjoyed this soup as well.

Absolutely delicious!! So easy to make. My husband who despises vegetables had seconds. Only had one potato, and no half and half. So, I substituted cream cheese, about 5 heaping tsps. What a wonderful way to use up carrots before they go bad. Will definitely make this again. Next time I will follow the recipe exactly.
Melt butter in heavy-bottomed soup pot. Coarsely chop vegetables. Add onions, carrots and celery to butter in pot. Saute on medium heat for 10 minutes, stirring often. Add potatoes, ginger, rosemary and parsley. Stir in stock. Cook, partially covered, until vegetables are tender (about 20 minutes). In batches, puree vegetables and stock in a blender and return to pot. Stir in cream, add salt and pepper to taste and reheat but do not boil.