Cream of Artichoke and Mushroom Soup
ChefLee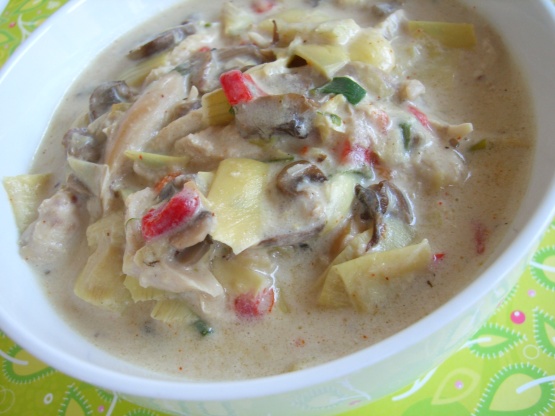 The marriage of these two vegetables is as exquisite as it sounds--a rich flavor and a velvety texture. The best part is that it only has a handful of ingredients, is easy to make and takes less than 30 minutes.

I served this at a rotation dinner party, so I trippled the recipe. However, instead of 6 cups of half and half, I used 4. More and it would probably been too milky. I also added a large clove of garlic, 2 T. sherry and white wine (1/4 cup). I used 3/4 flour and did a combination of butter and oil instead of all butter. Before adding the half and half, I pureed the soup in batches to make it completely creamy and smooth. Then I added the half and half, sherry, and wine and cooked it for a final 5 minutes on low heat. It was a hit! The next day I had a bowl of the soup, chilled, and it was even better.
Drain artichoke hearts and chop into small pieces.
Set aside.
Thinly slice mushrooms.
Finely chop green onion, including tops.
Melt butter in a large saucepan.
Saute onions and mushrooms for about 5 minutes.
Stir in flour.
Cook slowly for two minutes, stirring constantly.
Slowly add broth, then half and half.
Heat very slowly, stirring constantly until thickened.
Stir in artichokes and seasonings.