Directions
Drizzle honey over the top of the cream cheese block.
Sprinkle bacon bits over the top.
Serve with wheat thins.
Reviews
Most Helpful
I really don't know quite what to expect from this recipe, but I was intrigued by the sound of it, and had to try it. I baked some bacon in the oven and then crumbled it for bacon bits. I generously drizzled honey of the cream cheese before sprinkling the bacon and served this to my guests. Everyone loved it! And when I finally tasted it, I loved it too! What a great idea, and I'm so glad I tried it. Thanks for sharing.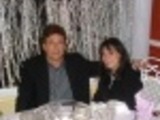 I never would have thought of this combination but I'm glad you did because it's awesome! I halved the recipe and instead of using bacon bits I used Perfect Baked Bacon to cook some fresh bacon. For the half recipe I used two slices of bacon and enough honey to cover the cheese, though it could probably actually use just a little more to offset the salty bacon. Thanks for sharing!

So that's enough dip for the first bite. Now keep going... Made for Best of 2012 recipe tag.

Thanksgiving Tips & Ideas >