Cream Cheese Wrapped Dill Pickles
flower7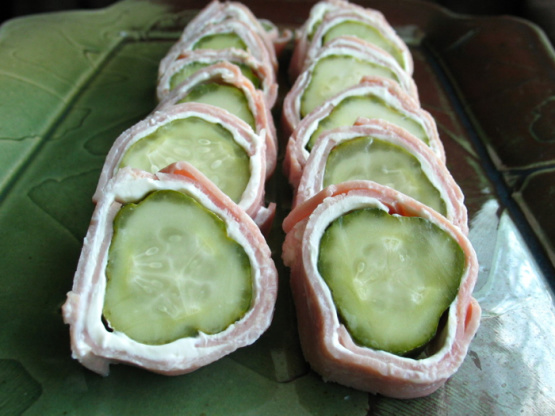 Totally addictive appetizer! Dill pickle rounds are the center of attention when wrapped in a blanket of cream cheese spread deli meat. An interesting appetizer I wanted to try after chef EnJenn3 described it in Topic of the Month thread. I searched and was surprised that the recipe wasn't posted here. I found different versions of it on Allrecipes and Cooks.com. I took both versions and spliced them together, based on my previous experience making similar appys, and here you have it. Herb-flavored spreadable cream cheese could also be used instead of regular. I got about 5-6 pickle rounds out of each pickle, but it will depend on how big they are to begin with.

Everyone I described this recipe to thinks it will be awful, but once they taste it.....its a winner!! I used regular roast beef, but next time I am going to try cajun roast beef.....I think that will make these even better!! Perfect combination of creamy and salty.....wonderful football food. Thanks for sharing!
8

kosher dill pickles, whole

8

ounces cream cheese, softened

4

ounces sour cream (or you can use all cream cheese)

3

ounces meat (deli-sliced roast beef or ham, not ultra thinly sliced)

1 -2

tablespoon horseradish cream (optional, but really good with roast beef)
Using paper towels, gently pat the pickles and the meat slices dry.
Combine the cream cheese, sour cream & horseradish (if using), together in a small bowl.
On a cutting board, or clean surface, lay out 1 slice of deli meat (if the meat is sliced thin enough to have holes, use two slices, one on top of the other) and gently spread with cheese mixture.
Lay one pickle along the edge of the meat and roll up tightly.
Repeat with remaining meat, cheese & pickles, then cover and refrigerate overnight.
Before serving, slice pickles into 1/2-3/4 inch rounds with a sharp knife.