Kittencal's Easy Refrigerator Kosher Garlic-Dill Pickles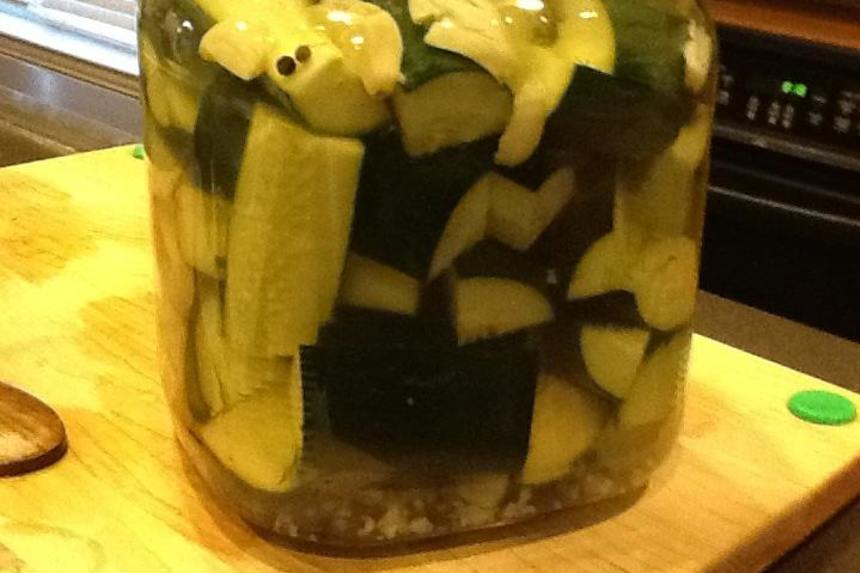 photo by Caseypratt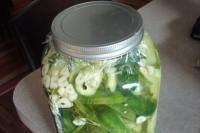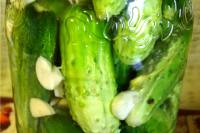 Ready In:

168hrs 15mins

Ingredients:

7
directions
Clean the glass jar and lid thoroughly in your dishwasher or with hot soapy water.
Combine the water, salt and vinegar in a saucepan; bring to a boil over medium heat.
Remove from heat; cool to room temperature.
Pack the cucumbers and the remaining ingredients in a 2-quart (2 litre) glass jar, and pour brine (water/vinegar mixture) over them, covering the cucumbers completely.
Store, covered in the the refrigerator.
The pickles will be ready in 7 days, but the longer you leave them in the refrigerator the better they will be and will keep refrigerated for months (if they last that long!).
**NOTE** since the peel is eaten on these pickles, make certain to wash and scrub the outside of the cucumbers well to remove any dirt, I use a small nail brush to scrub the outsides.
Reviews
YUM!! I messed up and didn't let the brine cool before pouring over cucumbers... but it didn't hurt them at all! They are so crunchy and good!! I'm a pickle snob (very picky) and I love these! Thanks for the easy, tasty recipe! Update: I'm finally coming to the end of that first batch that I reviewed almost 2 months ago. They are still crunchy and tasty... they taste very close to Claussens only better... crunchier! And the garlic flavor is awesome!

 

I have to go along with many of the other reviewers. I doubled the vinegar in these and added a tblsp. pickling spice. They were SO good! So good, in fact, that I then made MANY more jars. I even did fresh green beans. (My sons favorite) I did find that the whole cucumbers took just too long to taste pickled, so all the extra jars were done with slices and spears. I added a pepper to some, nice flavor. I think the basic recipe is fabulous for experimenting. Thank you so much for posting!

 

I wish I could give a non-rated review, because quite frankly, I altered my first try with this recipe based on the water/vinegar ratio, which I also felt was way off. After some research, I opted for 2 quarts of water, and used 2 1/2 cups of white vinegar. I didn't chop my dill as well as I should have, but used 3 heads in each quart jar, plus chopped fresh, plus a small tsp of dried dill. The only other thing I added was a 1/2 tsp of turmeric to each jar. This recipe then made 3 quarts. One quart I made thick sliced coins, one quart spears, and one whole pickles. I liked the coins the best. With altering the water/vinegar, I would give the recipe 4.5 stars!

 

Great pickles! I did modify the recipe slightly by using 4 cups of water and 1 cup vinegar, and also reduced the salt to 3 TBSP. Using a 2 qt. (half-gallon) jar I still had 3/4 cup of brine leftover. Also used extra garlic and dill and cut the pickles into spears then in half. I will be making these again....addictive...but next time I will not chop the dill up and use it whole. I didn't like all the dill weed and sediment sticking to the pickles.