Crazy Chicken - Rice Noodle Stir-Fry
dasman99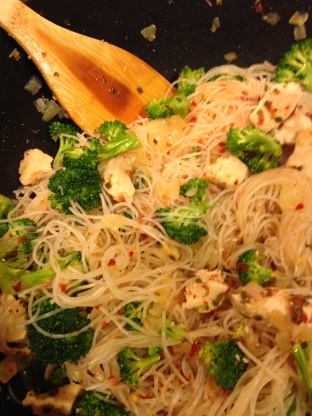 This is chef Ming Tsai's take on a traditional Thai dish. It's called crazy because of it's spiciness. You can always decrease the amount of sambal oelek if you don't like dishes too spicy (or increase it if you like it really spicy!). This recipe is perfect for a busy night. It's quick and simple to prepare. If you want to make this a one dish meal, I think you could probably stir-fry in some broccoli or peas, etc. Enjoy!

I really lucked out using your recipes today. This and your Recipe #424751 were so delicious. Fresh and easy. Thanks.
Fill up a large bowl with warm water. Add the noodles and soak them until they are tender, about 20 minutes. Drain and set aside.
While the noodles are soaking, you can combine the fish sauce, lime juice, sugar and sambal - in a small bowl. Stir until dissolved.
Heat up a wok or large skillet over high heat. Add the oil and swirl to coat the pan.
Add the shallots and stir-fry until brown - about 1 minute.
Add the chicken and stir-fry, breaking up the meat, until cooked through - about 3 minutes or so.
Add the noodles and sauce mixture and heat through, stirring.
Add the scallions and basil ribbons and give them a toss.
Garnish (opt.) with the lime wedges and basil sprigs and serve immediately.