Thai Noodles With Spicy Peanut Sauce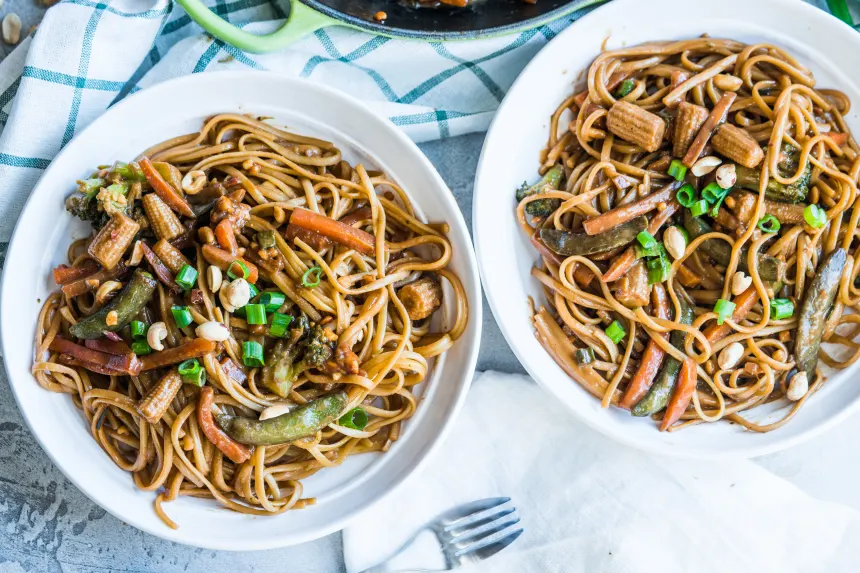 photo by alenafoodphoto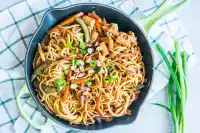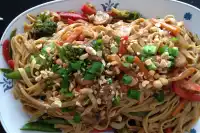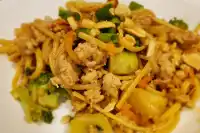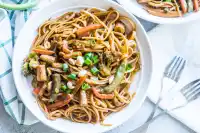 Ready In:

20mins

Ingredients:

12
directions
Cook pasta in a large pot of salted water according to package directions.
Drain and return to pot.
Add 2 TBSP sesame oil and toss to coat.
Set aside.
Heat remaining 2 TBSP sesame oil in heavy pot over medium-high heat.
Add green onions, carrots, stir-fry veggies, garlic and ginger.
Saute until vegetables soften, about 4 minutes.
Add honey, peanut butter, soy sauce, vinegar and chili-garlic sauce and mix well.
Simmer sauce 2 minutes.
Pour sauce over pasta and toss well.
Transfer to platter and serve warm.
Garnish with additional green onions, if desired.
Yields 8 side dish servings or 4 main dish servings.
**Chili-Garlicsauce can be increased or decreased depending on how spicy you like your dish.
As written, this recipe has some heat, but is still edible for my toddler son.
Questions & Replies

Would you suggest using the regular sesame seed oil or the toasted sesame seed oil? From my reading, the toasted oil has a strong taste, and is more often used in small amounts to add flavor rather than for actual cooking, frying, sautéing, so I wasn't sure which one to use here-the more neutral untoasted oil or the stronger flavored toasted one.

 
Reviews
I was looking for a recipe similar to the Thai Chicken Pasta dish at Cheesecake Factory, and this was very close. To bring it closer to the Cheesecake Factory Dish, I added two cut up chicken breasts, which I cooked until it turned white before adding the carrots and vegetables. Also, I increased the peanut butter by a tablespoon, doubled the chili sauce, and topped the final dish with fresh bean sprouts. One more thing; whisk the sauce ingredients before adding it to the vegetables to make a smooth sauce. My whole family loved this!

 

Thank you so much for this recipe! I have made it quite a few times since finding it. Last time I cut up chicken breasts and cooked them first with garlic, and then added them to the veggies and sauce while the sauce was thickening. Very good! *I don't use sesame oil and I cut up fresh broccoli and carrots

 

I hate being that guy that changes up recipes and reviews them (giving it a 5 star anyway) Changes I made: -Thick rice noodles instead of linguine noodles -2 cups fresh veg (broccoli and red pepper) instead of frozen veg -Added whisked egg while it was being stir fried together -Garnish with peanuts, cilantro and a lime wedge for spritzing After that, very authentic and amazing. Cheers

 
Tweaks
I only wanted spicy noodles so I left out the frozen veggies. I made the linguine noodles al dente. Made the sauce following the recipe, although light handed on the honey. Stirred the warm noodles in with the sauce. As a garnish, topped with a little more Toasted Sesame Oil, additional sliced green onion, & toasted sesame seeds. Delish! I plan on using spaghetti noodles next time.

 

Love this recipe but wanted to make it more healthy so I double the vegi content to 6 cups of fresh and 1/4 cup of cashews. I use whole wheat linguine noodles and reduce the amount to 8-10 oz. Low sodium soy sauce and I sub the sesame oil used to stir fry with olive oil. (I also find 4 tbsps of sesame oil a bit overpowering for my tastes.) I mix the cooked pasta directly into my wok of vegis when they are done. This dish is also fabulous cold as leftovers too!