GaylaJ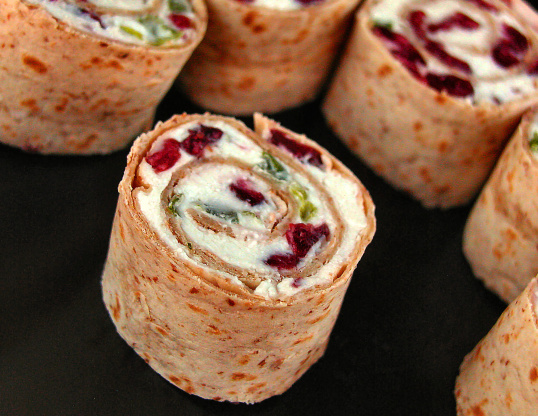 From Ocean spray and very good!

These were really good but I thought they could be better. I reduced the feta cheese amount by half (I'm not that fond of the feta taste). I left out the green onions, but they would be fine to leave in too. But my favorite change was spreading a thin layer of green pepper jelly (homemade) over the tortilla and then adding the cheese-cranberry mixture. I used a heaping tablespoon full of the pepper jelly on each tortilla, just enough to give these pinwheels a spicy-sweet taste and a colorful red & green look. YMMMM!
Combine all ingredients except tortillas, mix well.
Divide and spread mixture evenly among tortillas.
Roll up tightly, wrap in plastic and refrigerate at least one hour.
To serve cut into 12 slices.
A nice variation is to add thin slices of ham on top of the spread before rolling.