Cottage Pie with a difference
wizkid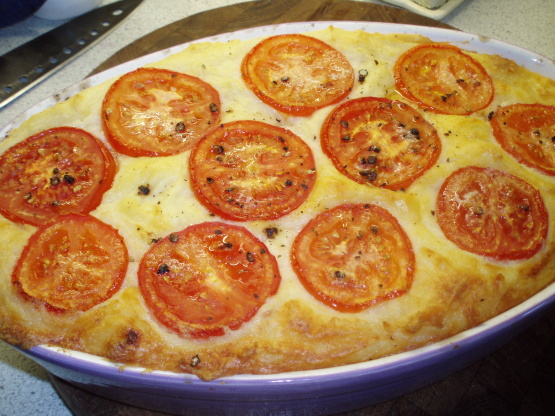 This is an English Cottage Pie, but with a big difference. All my friends who have tried it say they love it.

Delicious,.The cheese in the topping makes it great. Only change I made was to add some Worcestershire sauce
The filling: Finely chop the onions and garlic and gently fry until transparent in the olive oil.
(approx 3 minutes) Cube the carrots and put those into the pan with the onions and the garlic, cook for another 2 or so minutes.
Add the rest of the ingredients.
If too dry add a little water.
When cooked put into a ovenproof casserole.
The topping: Boil the potatoes until cooked.
Mash them adding the milk and half of the butter.
Add the grated cheese and mix well.
Put the mash mix on top of the filling.
You may wish to sprinkle some Parmesan cheese on top of this.
Slice the tomatoes and place on top of the topping, putting a knob of butter on each tomato.
Bake in a moderate oven for 40- 50 minutes, until the tomatoes are cooked, and the top is brown and slightly crispy.