flower7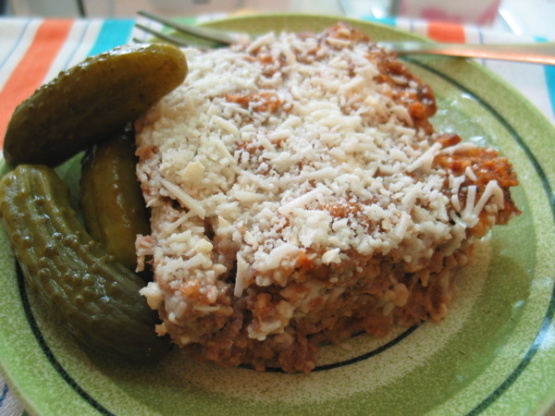 This is quick, simple, & tasty. Perfect for a work night when time & energy are in short supply. The cottage cheese makes the meatloaf moist & adds nutrition. (BTW... adding a cup of cottage cheese to a lb of hamburg makes for yummy hamburgers!)

This was sooo good. It might be my favorite meatloaf I've ever had. Cooked it in a 350 degree oven for an hour. Half way through (before the outside browned up) I thought I would have to throw it away. The only thing I did different was add about a tablespoon more of dried onion and about 1/4 c. parmesan inside the meatloaf as well as on top the last 7 minutes of cooking.
Combine all ingredients except Parmesan cheese.
Mix ingredients lightly till well blended.
Press lightly into an 8 by 8 pan.
Cover with waxed paper & microwave on high for 12 to 14 minutes, turning dish once (if no turntable).
Drain fat, if needed.
Sprinkle top with Parmesan cheese & cook uncovered on high for 1- 2 minutes or till cheese melts.
Let stand 5 minutes before serving.